Fruitcake and Holographic Chambers, an unusual topic of conversation.
The two don't really seem to have much in common, except they are both a mystery to me.
Let me start at the beginning...
My oldest son, Elijah is 6. He believes he's 16 or maybe more like 26.
He has requested a Holographic Chamber for Christmas.
Is this a thing?
Mrs. Claus has Googled the heck out of it, and has come up empty handed.
I'm pretty sure I don't even know what the combination of those two words mean.
But he does. Every detail.
He's imaginative and creative without restraint.
Where do we lose that?
The unbridled enthusiasm for
everything
.
At some point most of us trade that in for the acceptance of what is instead of what could be.
I don't have an answer.
Just wondering.
Ponder that.
And then there's fruit cake, a 6 pound confection loathed by most, but a necessity when exploring vintage recipes.
Loath no more good people.
This fruit cake is actually good. Fruit, nuts, spices all held together with butter and sugar, how could it be bad?
Read on for a delicious vintage fruit cake recipe.
If you need me I'll be in the basement trying to figure out how to build a Holographic Chamber to the specs of a 6 year old.
Holiday Fruit Cake
Ingredients
2 1/2 cups raisins, soaked for 10 minutes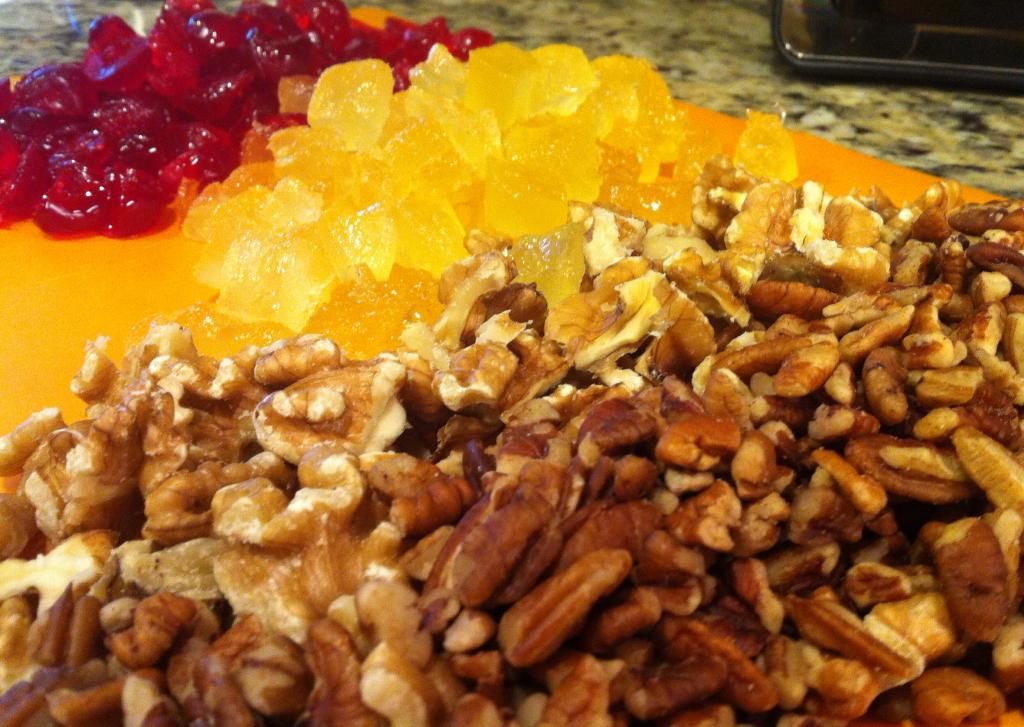 2 cups chopped nuts, I used half walnuts and half pecans
1 cup candied cherries, chopped
1 cup candied pineapple, chopped
1/2 cup butter
1 cup brown sugar
3 eggs, separated
1 orange, juice and zest
2 cups flour
1 teaspoon cinnamon
1/2 teaspoon nutmeg
1 teaspoon baking powder
1/2 teaspoon salt
Method
Preheat oven to 350 degrees. Line 2 standard loaf pans with waxed paper.

Cream butter and sugar until fluffy.
Add egg yolks. Beat for 2 minutes.
Sift together flour, cinnamon, nutmeg, baking powder and salt.
Add dry ingredients to the butter mixture and combine.
Add the juice and zest of an orange.
Add the fruit and nuts and gently combine.
Pour batter into the prepared pans and bake for 70 minutes.
Let cool slightly and remove from pan.
To modernize this recipe try substituting dried fruits such as cherries, apricots, cranberries for the candied fruit.