Hot Cross Buns are an Easter tradition at our family gatherings.
My Grandma always made them, and now I do.
She was not too concerned with the buns being aesthetically pleasing, so she would slather as much of the icing on top as she could, disregarding the traditional cross shape altogether.
She would also bring extra icing for people to pile more on, if they wished.
I guess she figured the icing is the best part, so why skimp?
I work to keep the aesthetics at least somewhat pleasing, so I take the time to cross each bun.
But I won't tell if you decide to pile as much icing as humanly possible onto your buns.
Hey, fill a gravy boat with the extra icing and pass it around the table.
I'm sure your guests won't complain!
Happy baking and Happy Easter!
Hot Cross Buns
Ingredients
1/4 cup shortening
1/2 cup sugar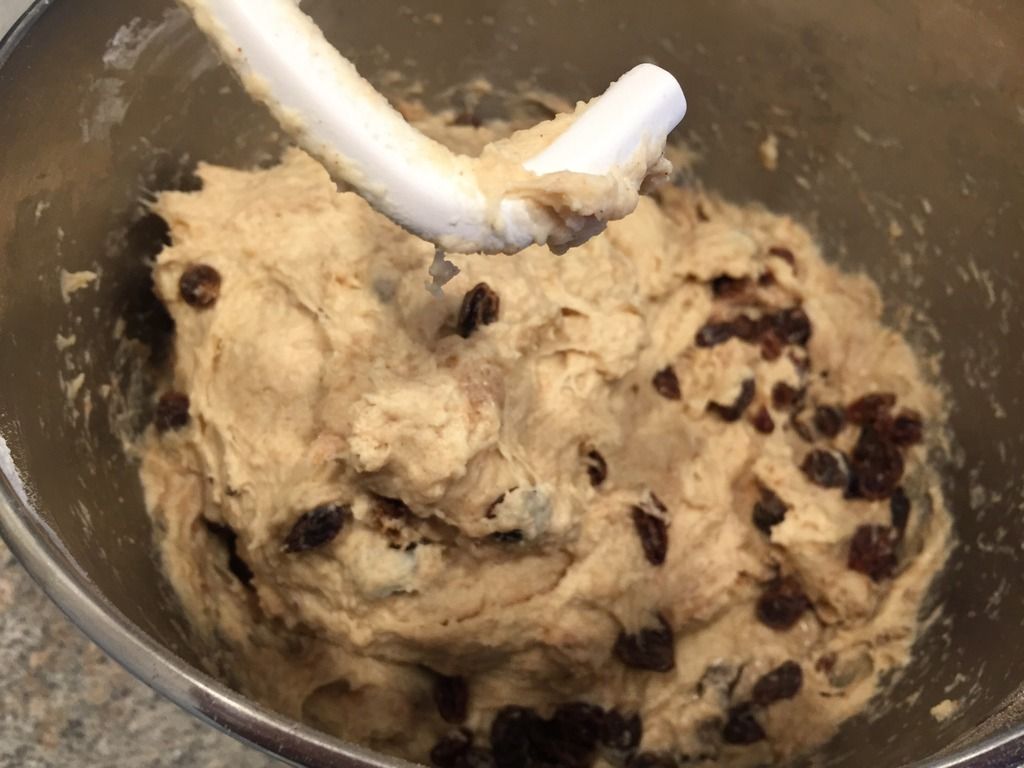 1 teaspoon salt
1 cup boiling water
1 cup evaporated milk( I used soy milk, and it turned out great)
1 cup raisins
2 tablespoons, plus 1 teaspoon yeast, dissolved in 1/2 cup warm water
2 eggs, beaten
7-8 cups flour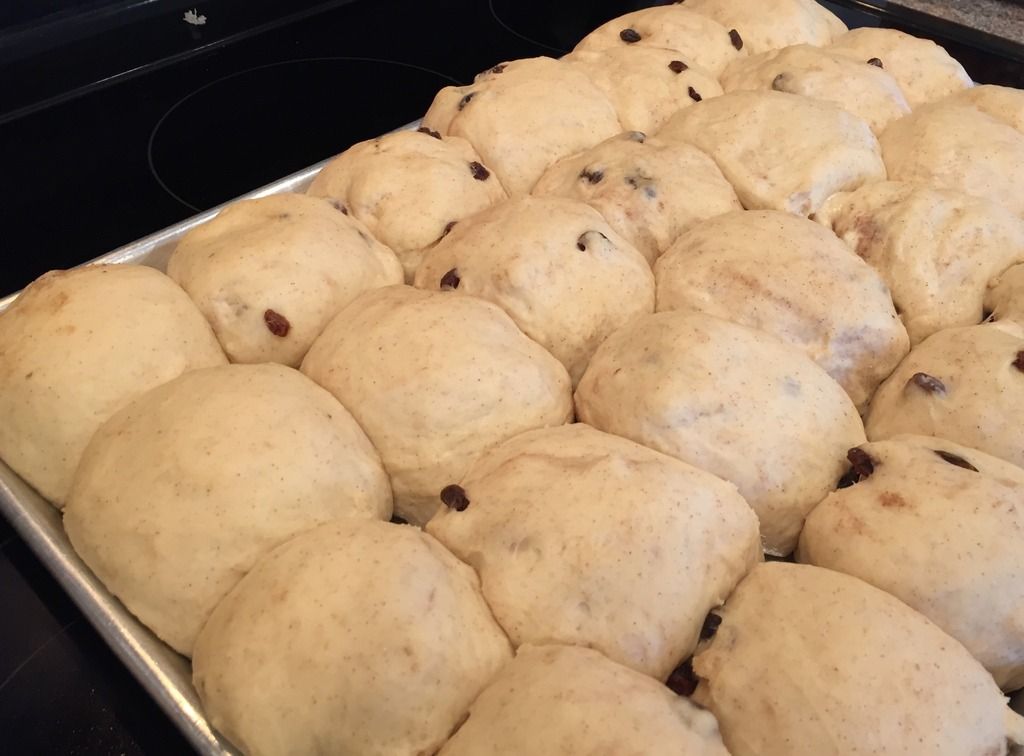 1 tablespoon cinnamon
1 cup confectioners sugar
Method
In the bowl of an electric mixer, add shortening, sugar and salt.
Pour boiling water over shortening mixture.
Add milk to the shortening mixture.
Stir to combine.
Add the yeast that has been dissolved in the 1/2 cup warm water.
Add beaten eggs to the mixture and combine.
Add raisins and flour, one cup at a time.
Stir until combined and a soft dough forms.
Place the dough in a greased bowl, cover and let rise until doubled. Approx. 1 hour.
Roll dough into balls and place on a greased cookie sheet. Cover and let rise until doubled. Approx. 1 hour.
Bake in a 350 degree oven for 20-25 minutes.
Remove from oven and cool completely.
To prepare icing, mix confectioners sugar with enough water, about 1-2 tablespoons to make a thick icing.
Fill a piping bag, or a Ziploc bag with the corner snipped off, with icing and pipe crosses on each bun.