When faced with the age old question, "what's for dinner," chicken, of course can become a pretty reliable answer.
I don't know about you, but I get really bored with the old standby; boneless, skinless chicken breasts.
I know that they're healthy, but truthfully rather bland.
And the other parts of a chicken are great too, and equally as healthy and much tastier!
A little comparison to put your mind at ease...
Chicken Breast
156 calories, 7 grams of fat, 23 grams of protein
Chicken Leg
183 calories, 10 grams of fat, 23 grams of protein
As you can see, all chicken is a relatively healthy choice.
Cooking a whole chicken can seem a little intimidating, although it really shouldn't. It's actually a cost effective and delicious notion.
Do not be afraid.
Using the crock pot method is a no fail solution for cooking a tender, juicy, flavorful bird.
It won't be dry or overcooked and it couldn't be easier.
Try to remember to take out the giblets that will be found in the cavity of your chicken.
If I'm being honest, I forgot to do that once and it still turned out just fine.
One tip, try to find a locally raised, pastured bird. It really does make a huge difference in flavor as well as nutritional value. I will warn you that this type of chicken will cost more than the factory farm poultry found at the supermarket, but we are going to use every bit of this little chicky, so it will be money well spent.
We have chickens on the farm, but I don't have the heart to use them for anything other than egg layers and pets. If you're local, you can find free range chicken at All Good Things Natural Market, Tierra Verde Farms .
Okay, let's get started. The following recipe will be to cook a whole chicken and it will be similar to a rotissire chicken when it's finished. We will then use all of the leftover bones, drippings, spices, etc. to make a flavorful stock right in the crock pot, perfectly suited for Chicken Noodle Soup. I certainly did not invent this method, but I have used it countless times and it's always great.
Whole Chicken
Ingredients
Chicken, somewhere around 5 pounds
2 teaspoons paprika
1 1/2 teaspoons salt
1 1/2 teaspoons onion powder
1 teaspoon garlic powder
1/2 teaspoon black pepper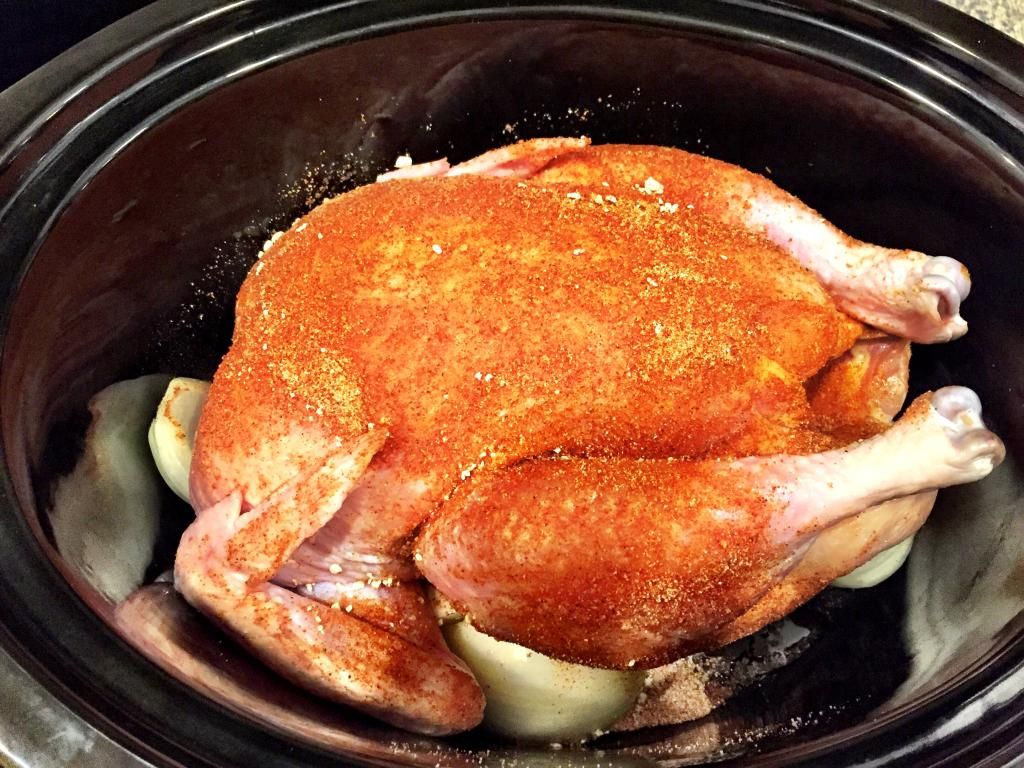 Before
1 onion, loosely chopped
Method
Combine spices in a small bowl.

Place the chopped onion in the bottom of the crock pot.

After removing giblets, rub spice mixture all over the chicken.

Place chicken on top of onions and cook on low for 8 hours or high for 5 hours. There is no need to add additional liquid to the crockpot.

Save all leftover bones, skin, liquid and onion in crockpot to make chicken stock!

After